Stock Ford F53 Test - Before and After upgrades.

In this video we conduct a Ford F 53 Stock Chassis test! Our mission is to take the Rock and Roll out of it. Driving the coach is Robert Henderson with over 30 years of experience! Robert is an expert at the wheel. Please do not attempt what you see in this video. Our test was designed to measure how a stock Ford F53 will handle under emergency conditions.
Not every Ford F-53 coach owner is willing to drop thousands of dollars for a complete SuperSteer performance handling package. However, we suspect part-time and full-time RVers who travel thousands of miles yearly can benefit from adding any SuperSteer part.
Keep in mind that suspensions are a system and every part has a role to play in the overall handling of your motorhome. One component in that system can complement another, or one can aggravate another, which is what happens in the steering of this coach.
In this video you will see that we address the following: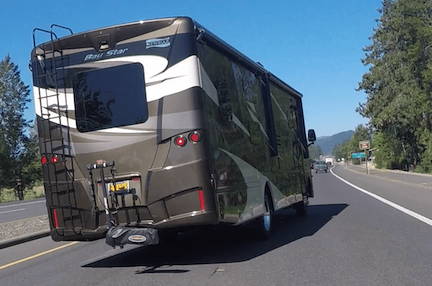 AT 50 MPH THIS COACH LEANS AT A DANGEROUS 21 DEGREE ANGLE.
BODY ROLL REDUCTION
The goal is to dampen body roll, a motion that takes its toll both mentally and physically on driver and passengers in normal driving conditions as the brain and muscles automatically and continually work to keep the body stable. Hours on the road in a constantly rocking coach, especially along mountain, secondary or coastal routes, can leave occupants tired and irritable.

Excessive body roll is also the safety issue: If the driver has to make an emergency lane change to avoid hitting something in the road at speed, the less body lean and the more stable the coach, the safer the outcome. Aftermarket anti-sway bars are the antidote for excessive body lean, and SuperSteer offers several of those options when it comes the F-53 chassis, depending on the GVWR.

SIZE MATTERS
It doesn't sound like much, but increasing the diameter of a sway bar by 1/8-inch makes a huge difference! Each 1/8" in diameter increases the roll resistance and sway control by approximately 33 percent. Our oversized sway bars typically provide from 65- to 100-percent increased roll resistance from the OEM bars.
In this video we add two Roadmaster [anti-sway] bars to the rear suspension—and installing the doubleheat-treated [anti-sway] bar up front. This provides nearly three times more torsional rigidity than the factory F-53 setup.
SHOCK TECH
Suspension components work together as a system. F-53 motorhomes are big, heavy vehicles. When you install more aggressive anti-sway bars, which act like springs, they want to snap back to their neutral position after a body-lean event. When you dramatically reduce that side-to-side rocking motion, you'll notice some porpoising. That's why we recommend upgrading to the Koni FSD shocks that we offer to compliment our [anti-]sway bar kits."
The Koni FSD shocks are a premium hydraulic shock that utilizes "patented Frequency Selective Damping (FSD) technology to control large body motions and cornering forces, but smooths expansion joints and rough roads for improved comfort" and when adding the SuperSteer Quad Shock Kit you can really feel the difference.

WORTH CONSIDERING
We learned a lot doing this Stock Ford F53 test before, during and after the upgrades. The take-away is the difference in overall feel between stock and the full SuperSteer suspension treatment is like the handling difference between driving a base model Suburban compared to a Cadillac Escalade, or a stock Mustang and a Mustang GT.
The owner of the coach said:
"I can drive with thumb and forefingers on the steering wheel. It's easy to stay in your lane, even in strong side winds and while driving along two-lane roads. This handles more like I'm driving a big van now—and my wife isn't afraid to get in the driver's seat. Love it!"
SuperSteer Products added to this coach are as follows:
SS101 - Heat Treated Front Anti-Sway Bar
SS289 - Dual Rear Sway bars
Also you may want to check out: PERFORMANCE STEERING PACKAGE FOR FORD F53 20-22K