How long does shipping usually take after I place my order?

We process and ship orders same day on in stock items if the order is placed by 2:00 PM PST Monday-Friday. If an order is placed after 2:00 PM PST or on a weekend (Saturday or Sunday), the order will ship the next business day. If a non stock item is ordered and requires shipping from another warehouse, shipping times will vary.
Where does my order ship from?
We ship all stocked items from our warehouse in Grants Pass, OR, USA. If you purchased from our website or over the phone from our sales team, this is where your order ships from. If you're purchasing through Amazon or one of our partnered sellers, the items may be shipping from another state.
How long will it take to receive my order?
The delivery time is based on the shipping method chosen and your location. The shipping method you choose at checkout will vary in delivery time depending on where you are located. The estimated shipping time can range from 1-7 business days for domestic orders and 7-14 business days for international orders. Please note that these are approximate times and can change, especially during holidays and busier shipping seasons. UPS does not guarantee delivery dates for Ground shipments.
please use The map below to view approximate ups ground transit times: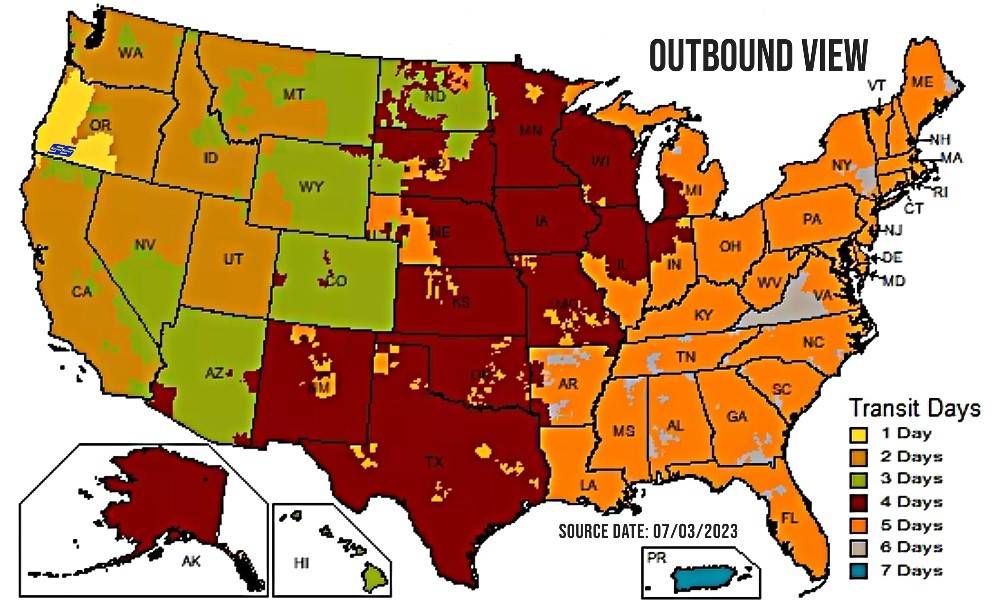 What shipping carrier(s) do you use?
We ship using UPS. In the event there is an issue with UPS, we are able to ship using a different carrier. We are working toward offering USPS as an option for smaller packages online in the future. If you feel the shipping charges displayed are incorrect or higher than expected, call us (888-898-3281) and we can take a look at it.
Do you offer free shipping?
Yes! We offer free UPS Ground shipping on domestic retail orders of $175 and over. Free shipping excludes AK, HI, PR and international lcoations.
Do you offer international shipping?
Yes, we offer international shipping to many countries. Shipping options, cost and delivery times may vary depending on the destination/customs procedures. Additionally, customs fees, duties, and taxes may apply, which are the responsibility of the recipient and are separate from order and regular shipping costs. We recommend checking with your local customs office for more information on potential charges. We do not provide quotes for customs or brokerage charges.
Are there any products you don't ship internationally?
Yes. At this time, we are unable to ship most sway bars internationally due to their weight and size. For Canadian orders, if you are able to ship to a USA address close to the border and pick it up, that is ideal. We also do not ship freight pallets, like the TRA-1004, internationally. If you have your own UPS or FedEx account and would like provide your own label for the shipment, we are able to accomodate that in most cases. Also, we do not drop ship internationally unless shipping label is provided. Please contact us for further information.