THE RV DRIVER NEWSLETTER:
HOW TO DO A PROPER TRAILER INSPECTION
SAVE THE DATE!
Meet Our Staff At One Of
These Rallies / Events:
When I think about trailers, the phrase "out-of-sight-out of mind" comes to mind.
For instance, if you have a bad wheel bearing in the vehicle you are driving you will be able to hear it, smell it and maybe see it. Not always so with trailers.
When it comes to trailers there are several things in addition to the above, that warrant a good inspection by someone that knows how to do a proper trailer inspection.
At Henderson's Line-Up, we recommend loading up the trailer and then get it weighed on each individual wheel to determine if you have proper weight distribution including tongue weight.
Then the tire pressure should be set according to a chart from your RV's tire manufacturer.
A thorough visual inspection includes a careful examination of springs and bushings for wear, cracking, bending or breakage
due to the high stress load on a short spring.
In my book "Living Life One Mile at A Time" I talk in detail about trailer and 5th wheel suspensions.
There are many options to improve safety, handling and performance of your towable. It all starts with a good inspection.
~ Robert Henderson

Truck pulling a trailer down the road
---
MOTORHOME TIRE CARE: Be careful to not over-Inflate!
A recent article posted on the RV Repair Club website offers some excellent advice on proper tire care called "RV Tire Care Tips," by RV expert Dave Solberg. "Most RV owners think they are taking proper care of their tires. After all they periodically check the pressure, take a quick glance or "whack" with a trucker's bat, and keep them clean.
"Tires are the most important component on an RV, but according to data assembled by the RV Safety & Education Foundation (RVSEF) and several tire manufacturers, are also the most neglected," says Solberg.
The article goes into detail about the many aspects of proper tire care and tips to make life on the road safer and less stressful. The main point being don't over-inflate RV tires.
"Proper tire pressure can only be found by weighing each wheel individually and checking the tire manufacturer's chart for dual or single application," the RV Repair Club writer says. "This is different from most passenger cars as the weight of your RV can be substantially higher once you put all your 'stuff' inside.
"If your rig is not loaded to maximum capacity, you will be over-inflating the tire by using the number on the sidewall and have less tread on the ground which will affect stopping and maneuvering," says Solberg.
To find the correct tire inflation for your RV tires, check the tire manufacturer's website, or read your vehicle's owner's manual and tire guide if that's available. The RVSEF also has a listing of tire manufacturers and tire inflation charts.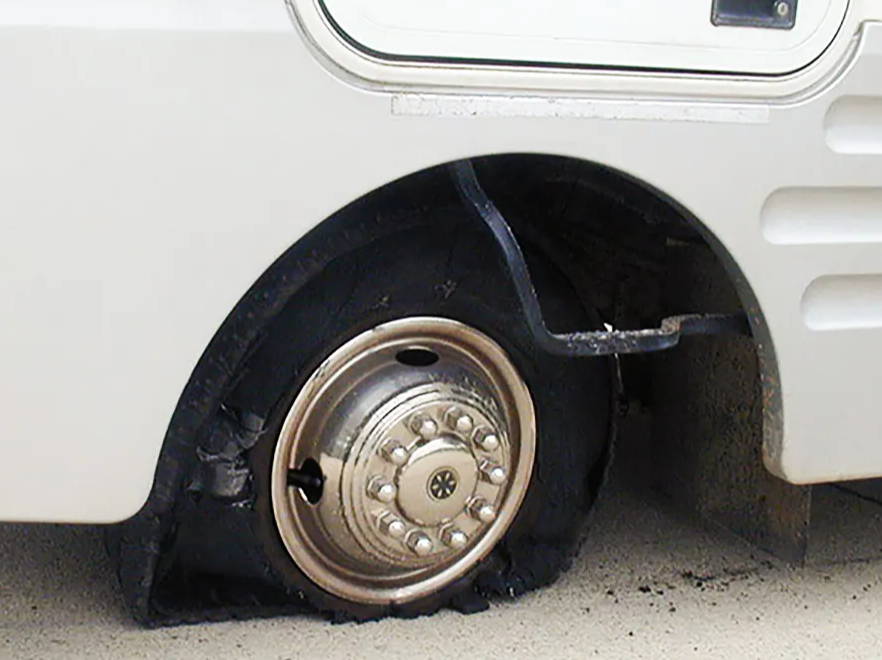 RV MOTORHOME WITH A FLAT TIRE
Improper tire pressure can lead to blow-outs on heavier vehicles such as motorhomes. Tires that have visible imperfections such as uneven tread wear, bulges, or chunks missing from the tread should be immediately replaced before an extended road trip with your RV. One of the first things we check on RVs that come into our Henderson's Line-Up service center is tire condition.
---
The Benefit of SumoSprings Used In RVs
What are SumoSprings and how do they help my motorhome handle better?
Great question! The SumoSprings we sell and install at our shop are made up of microcellular polyurethane. What does this mean to you as the RV owner? Less bounce and sway and in many cases improved ride quality while driving your RV.
SumoSprings come in different durometer rating (Hardness). That hardness is controlled by how much nitrogen is injected into the molten urethane when the spring is being molded. You can tell which version you have by the color of the spring itself: Blue SumoSprings are -40, black SumoSprings are -47, and yellow SumoSprings are -54.
They come in three applications depending on the vehicle and its use:
The Solo, in which the Sumo usually serves to replace or supplement the original bump stop.

The Rebel, which is a 2-piece version that looks like 1 piece with weight on the vehicle.

The Maxum is one with brackets that attach to the axle and frame for maximum load and anti-sway characteristics.
Like any other aftermarket product, it needs to work with other RV applications. The goal is to make sure you are receiving the proper benefit on your vehicle whether it be a Motorhome, Pick-Up or Towable.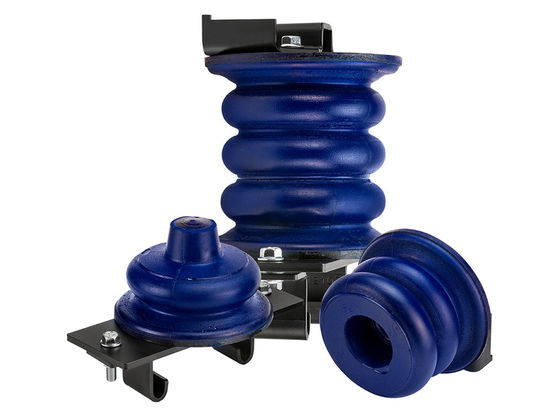 SuperSprings SumoSprings are a great addition to any RV, trailer or tow vehicle's suspension setup. SumoSprings® are a patented suspension product designed to enhance load carrying ability, stabilize sway, and improve overall driver control and ride comfort. They are maintenance free, do not leak air, and do not require airlines or compressors.
---
TIRE BLOW-OUT PROTECTION KEEPS YOUR RV ON THE ROAD
Tyron tire safety devices good for motorhomes; the pros and cons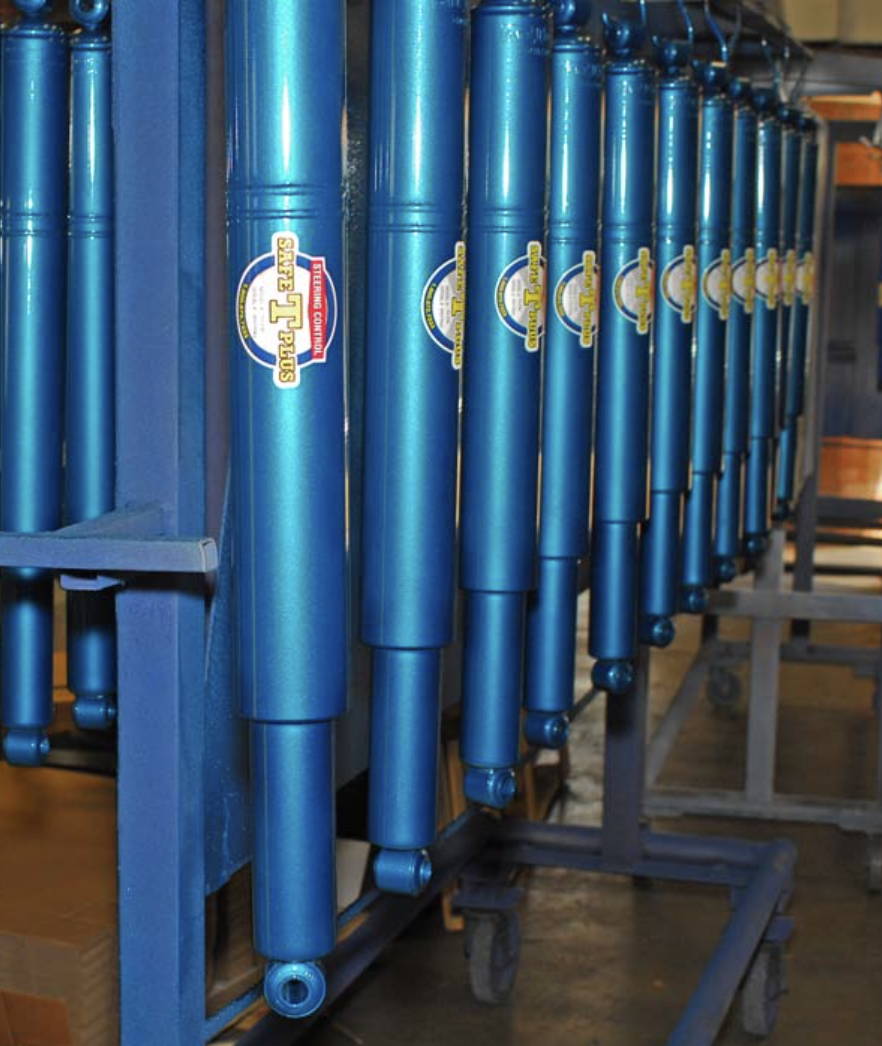 Safe-T-Plus Products for RVs
Having a front tire blow-out is a clear and present danger to an RV owner and at Henderson's Line-Up we hear about such occurrences happening more on the big diesel pushers than the lighter coaches. Within the past month, I met 2 people that have had blow-outs on their diesel pushers. Both RVs had tag axles, which help the coach typically to be more stable overall because of the extra axle on the rear.
Both parties had recently bought their coach. Neither one had passed the five-year mark on the tires, and neither had over 30,000 miles on them. Visually they looked fine. Fortunately, both RVs had Tyron USA tire bands on the wheels to keep the tire from dropping down in the rim and balling up to cause the coach to pull off the road into a ditch, guard rail, or oncoming traffic!
Are there any down-sides to Tyron's blow-out protection devices?
That's what coach owners often ask us. Our take is there are both pro's and con's to consider. On the pro side, as said above, the Tyron tire safety devices have proven their worth keeping the vehicle on the road in the event of a front-tire blowing out instead of the tire flattening to the rim, the tire balling up, and suddenly pulling the steering wheel out of the driver's hands.
The con side is you are increasing the unsprung weight on the front suspension, and the amount of energy it takes to get started and stopped as the wheel/tire assembly is like a big gyro. They also make it hard to change tires with the Tyron's big steel bands on the inside.
There are RV steering controls on the market, such as Safe-T-Plus or a Roadmaster Reflex that help a motorhome track truer and straighter in the event of a blow-out, and improve the steering of a coach by bringing it back to center. The Tyrons don't have that feature, which is another down-side.
In the end, the choice of what front-tire blow-out safety products, or combination of products, you use on your coach is yours, and yours alone. But rest assured, use you should. ~ Robert Henderson
---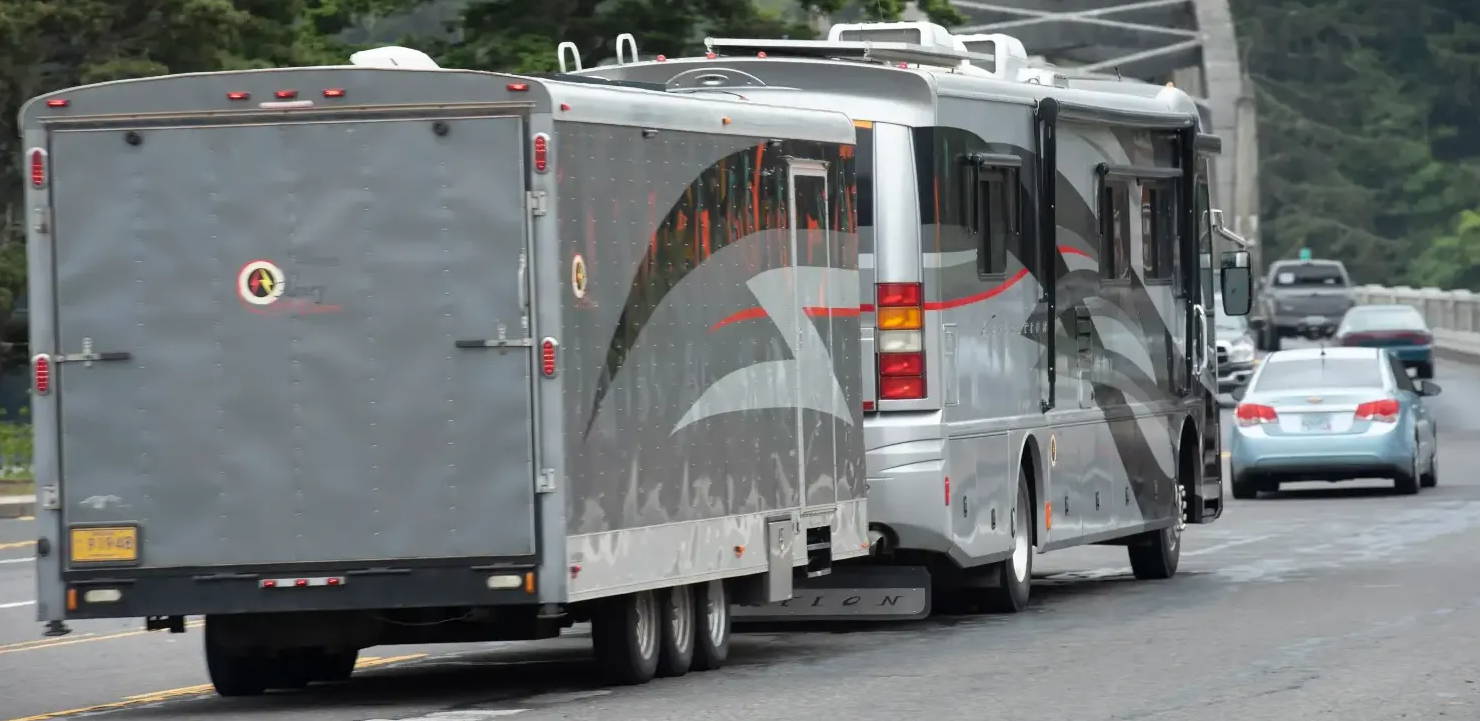 Shake-Down Runs Important For Safer RV Road Trips
Motorhome safety starts before the road trip begins; lessons from the road
If you have had your RV sitting around a while and you are tired of being locked up and/ or locked down for whatever reason, you may want to take a long road trip.
Before you venture out, a lesson learned is always give your RV a thorough check-over and do a shake-down run. You don't want to spend your vacation time sitting along the highway waiting for a wrecker to arrive!
Basics are always important.
Check engine , cooling and transmission fluid levels. Look for any sign of leakage especially under the coach. Check wiper blades and washer fluid levels. This applies to both motorhomes and tow vehicles.
Check tire pressures. Check lug nuts are torqued properly. Check the tires. Run your hand gently over the edge to check for obvious signs of cracks or chunks. Remember to check the date code on those tires. (Tire manufactures typically say tires have 5 to 7 years of life.)
If you have ANY doubts about a travel trailer or motorhome tire's integrity, replace it. A blow-out on a motorhome or trailer can do several thousands of dollars' worth of damage in an instant.
It is a good idea to take a short two-hour shake down cruise before leaving on an extended trip. A short trip allows you to deal with issues that you
didn't notice during the pre-trip walk-around.
There is a great book about the importance of checklists called "Check List Manifesto" by Dr. Atul Gawande. This surgeon's book details how to properly design and use a checklist. It's also filled with lots of interesting details.
Also check out Campanda.Com and download one of their RV checklists. This website has several sample check lists on it; you can get sample check lists for major areas of the RV. Refer to your check list or have your spouse or travel partner double check your work.
Let's face it, testing lugnuts for proper torque compared to making sure you have plenty of paper towels could have very different outcomes. My wife, Barb, just cleaned out all 10 of the little vent filters on our AC unit. This saves the wear and tear on your unit due to plugged or restricted filters. But compared to worn out wiper blades they certainly do not pose a big safety hazard.
Bottom line, I am very happy pilots use checklists before every takeoff even though they have flown hundreds or maybe thousands of times. RVers should follow the same procedure. From the Henderson's Line-Up crew, best wishes for safer and happier driving! ~ Robert Henderson
---
How Can You Make Your Mercedes-Benz Sprinter Handle Better?
SuperSteer 2500/3500 M-B suspension kit tightens steering and reduces body sway.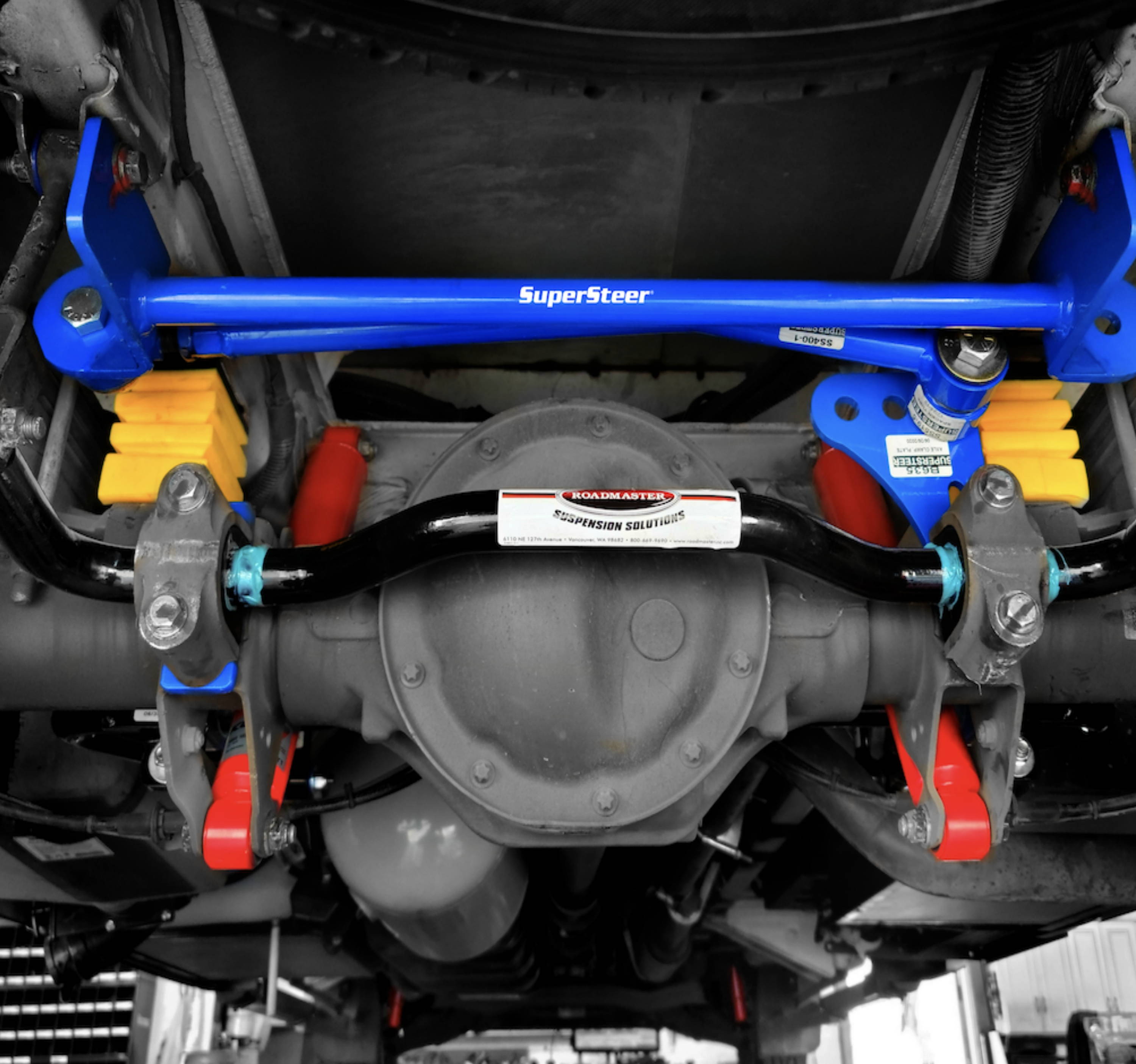 REAR TRAC BAR FOR SPRINTER RV
SuperSteer Mercedes-Benz 2500/3500 suspension handling package improves handling, reduces body roll, sway, and provides a much more stable driving experience for 2007-newer Sprinter camper vans and Class B motorhomes built on the M-B Sprinter platform.
Henderson's Line-up, home of SuperSteer RV products, has answered Mercedes-Benz Sprinter customers' requests for improved ride and handling of 2007-up 2500/3500 camper vans and coaches built on the popular cab-chassis by introducing a new rear suspension package that gives "sports-car-like" road performance.
The SuperSteer M-B Sprinter Handling Package consists of a SuperSteer Rear Trac Bar, Roadmaster Anti-Sway Bar, SumoSprings bump stops, and Koni Frequency Selective Damper (FSD) shocks. All of the new rear suspension parts are bolt-on replacements using existing factory mounting holes.
The SuperSteer Sprinter handling package comes with all mounting hardware and detailed instructions.
SuperSteers' SS701 Rear Trac Bar stabilizes the rear axle housing, preventing uncontrolled side-shift and sway caused by the push-pull effect of strong side winds and passing trucks, or sudden changes in steering direction.
Stabilizing the rear axle assembly makes the steering more responsive and controlled.
The Sprinter Handling Package is available through our SuperSteer dealers.
We also install the kits at our shop in Grants Pass,Oregon. Click here to make your appointment with our Henderson's Line-Up service department today! You can also go HERE to learn more about what a rear tracbar can do for your RV.
---
The Narrow Road by Robert Henderson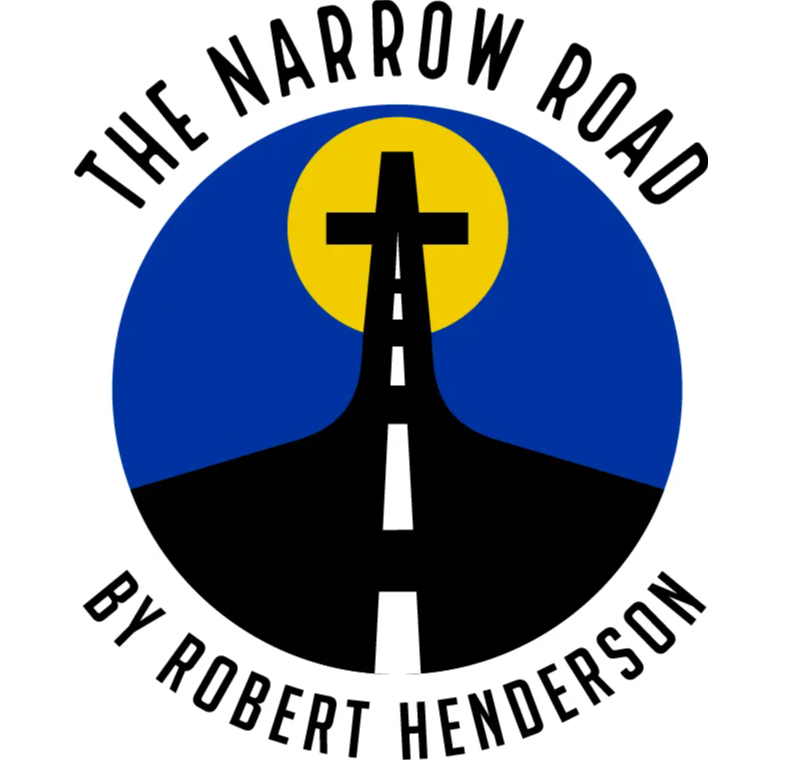 Be joyful in hope, patient in affliction, faithful in prayer. (Romans 12:12 NIV)
I hope I didn't lose some of you bringing up that affliction thing! Usually when people have lived through a few decades of life, they are well aware of troubles in this life.
The good news is what Jesus spoke to us in John 16:33:
"These things I have spoken to you, that in Me you may have peace. In the world you will have tribulation: but be of good cheer, I have overcome the world."
This season of the year has many of us getting itchy feet, ready to get in those RV's and explore. See a sunset we have not seen before , or walk a beach with waves gently, or not so gently, lapping at our feet.
As you adventure out, remember to take some time to thank the Lord for His care. If you feel lonely, reach out and make a new friend or contact an old friend! We weren't meant to walk this narrow road alone, after all.
He will always be with us. (Deut 31:8)
---
Here are 34 New Scenic Byways every RVer can Enjoy!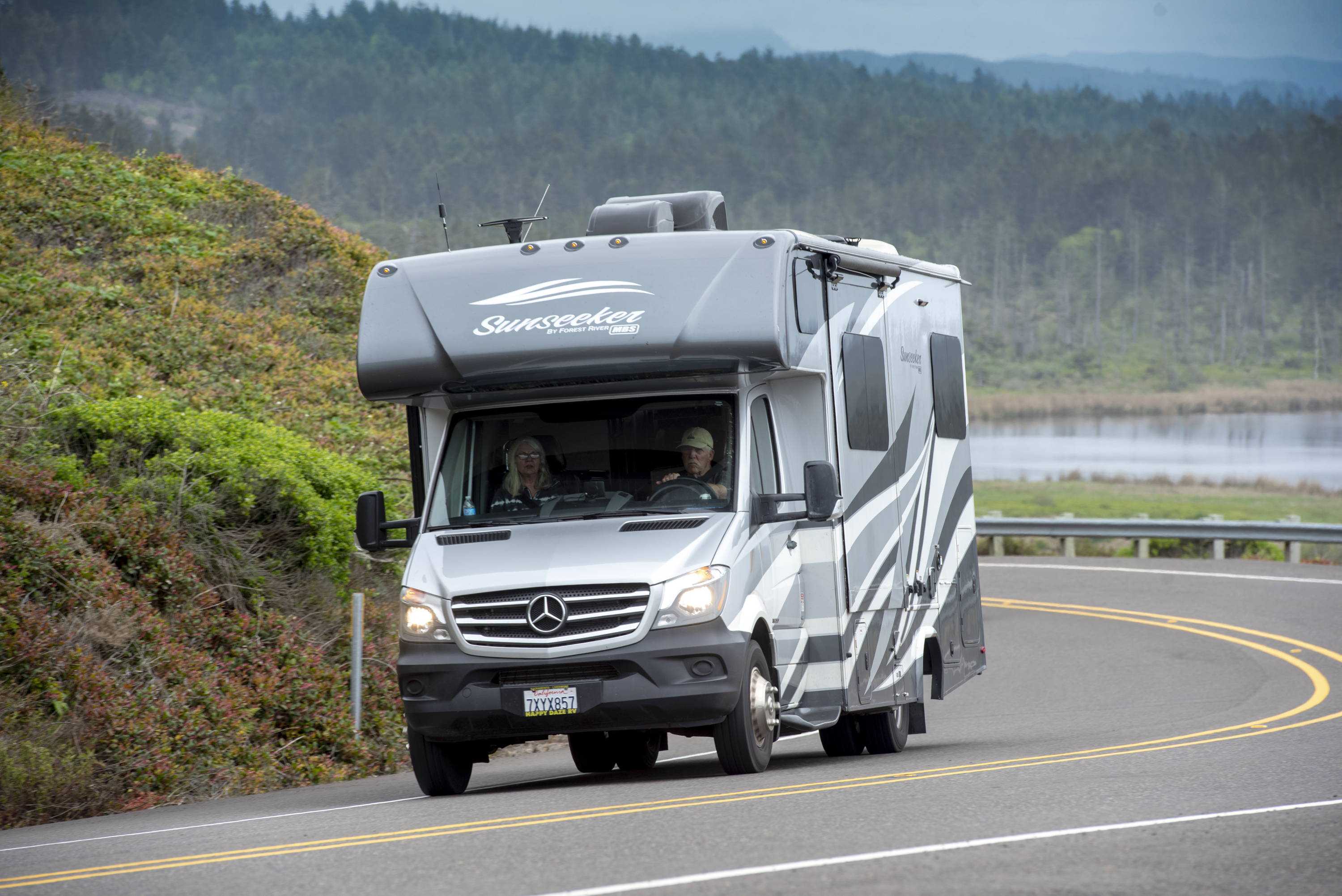 RV driving along the Oregon coast.
FEDERAL HIGHWAY ADMINISTRATION ADDS NATIONAL SCENIC BYWAYS
In January 2021 the Federal Highway Administration unveiled 34 new National Scenic Byways and 15 All-American Roads in 28 states, bringing the total to 184 in 48 states. The new designations are the first since 2009.
To be considered for the designation, the route must satisfy a few prerequisites. It must be a state scenic byway, possess regional importance and exhibit one (Scenic National Byway) or two (All-American Road) of six "intrinsic qualities."
The application only requires the minimum number, but many of the roads contain several of the characteristics: cultural, natural, historical, recreational, archaeological and scenic. (SOURCE: NSBP)
---
Motorhomes Exempted From California Smog Tests
OUT-OF-STATE DIESEL MOTORHOMES GET PASS ON CARB INSPECTIONS
The California Air Resources Board (CARB) is currently developing new requirements that could have had huge implication for diesel motorhome owners traveling to California.
Following action by the RV Industry Association and its partners, CARB has amended its regulatory proposal on the heavy-duty inspection and maintenance program to exempt diesel motorhomes registered in states other than California, so long as they are being used for non-commercial uses. (SOURCE: RVIA)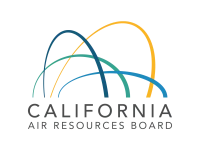 ---