Transforming a Ford F53 Motorhome:
Shawn's Journey from Frustration to Smooth Riding Bliss!

Why would an owner of a BRAND NEW 2023 Ford F53 bring his motorhome into a steering and suspension shop? It's a good question! Let me ask you another question. Are you tired of bumpy rides and white knuckle handling? If so, you're in the right place! In this fun-filled blog, we'll share the thrilling tale of Shawn, an unhappy motorhome owner who waved goodbye to his steering and suspension woes thanks to some fantastic aftermarket products.
(You can also see the video here)
The Bumpy Ride: Steering and Suspension Issues in the Ford F53 Motorhome
Like many Ford F53 motorhome owners, Shawn's motorhome felt like a rollercoaster ride – but not in a fun way. Steering and suspension issues made his journey uncomfortable, unsafe, and far from enjoyable. Desperate for a solution and wanting to make his co-pilot (his wife) happy, Shawn turned to us for a much-needed pit stop.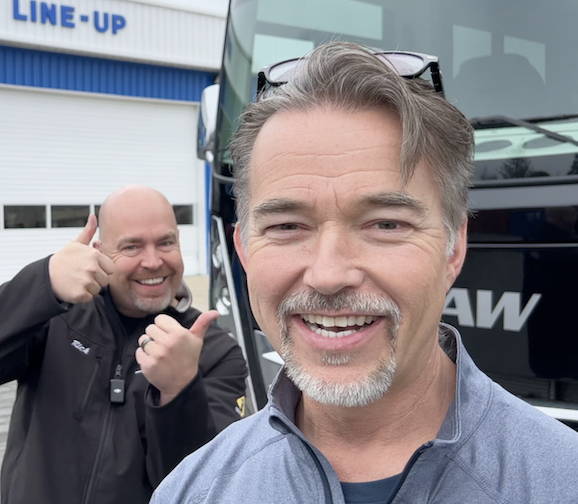 The Pit Crew: Assembling the Ultimate Aftermarket Upgrade Package
After doing our Road Performance Assessment on Shawn's motorhome we whipped up a magical mix of aftermarket upgrades to tackle his steering and suspension troubles. To improve the steering response in his front suspension, we installed radius rods. In the back we added a rear tracbar, and installed a new saddle bracket and bushing kit for his OEM sway bar to enhance his vehicle's stability and control. These upgrades significantly improved the motorhome's handling and gave Shawn the confidence he needed on the road.
The Turbo Boost: Koni Evo Shocks for the Ford F53
But hold onto your hats, folks, because the most exhilarating part of Shawn's motorhome makeover was his trailblazing choice to become the first class A Ford owner on Earth to purchase the new Koni Evo shocks, custom-designed for the Ford F53. These high-tech shocks supercharged his motorhome's performance, making his ride as smooth as silk.
The Victory Lap: A Delighted Ford F53 Motorhome Owner
Now equipped with the ultimate aftermarket steering and suspension upgrades, Shawn's motorhome went from wobbly to wonderful. His new, smooth-sailing motorhome brought a smile to his face, making every mile an absolute joy for him and his wife.
Your Turn: Hit the Road with Your Upgraded Ford F53 Motorhome Today!
Ready to turn your Ford F53 Class A Motorhome into the ultimate road-trip machine? Don't waste another mile! Click the link below to get your own set of the Brand NEW Koni Evo shocks! Join Shawn and other ecstatic F53 motorhome owners who are souping-up their Class A motorhomes for the most enjoyable driving experience ever.
🔗 Upgrade your Ford F53 Motorhome with Koni Evo shocks by CLICKING HERE!!!!