Are you looking for a new gas "Class A" motorhome? If so, the Ford F53 chassis is now your only option going forward. For years Ford has offered a range of truck and motorhome chassis for fleet and commercial customers. Before the coach manufacturer builds the box on top they are called stripped chassis. These incomplete vehicles consist of a ladder-frame truck chassis equipped with an engine, transmission, available instrumentation, steering, brakes, alternator, wiring assemblies, fuel tank, wheels, and tires. Most 2020 and older F53 chassis will have the Ford 6.8-liter V10 engine that delivers 320 horsepower and 460 lb.-ft. of torque.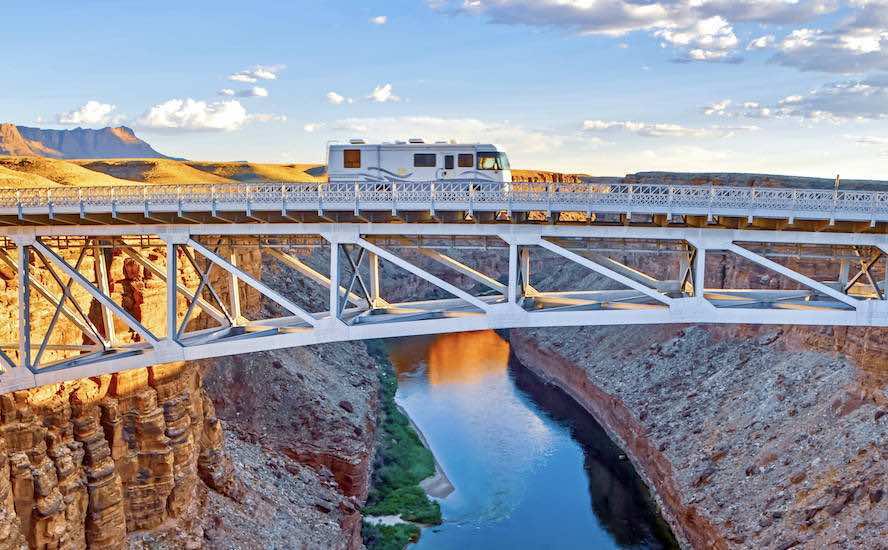 Ford F53 traveling over bridge
NEW 2021 FORD F53 CHASSIS
In 2021 things changed. You may already know that the new F53 chassis has the new 7.3L gas V8 "powerful" engine. It replaces the old V10 that was there before. The new V8 is a good engine for this heavy motorhome. Chassis choices feature a GVWR range of 16,000 to 26,000 pounds with a wide range of wheelbase options. The 2021 F53 chassis does have a beefier anti-sway bar than previous OEM versions. Lastly, Ford has also gone back to Bilstein instead of Sachs shocks.
Even with these positive changes to the 2021 Ford F53, there are still some driving challenges you need to be aware of.
BODY ROLL:
The 2021 F53 chassis still has "body roll". You will want to dampen it. This motion takes its toll both mentally and physically on driver and passengers in normal driving conditions as the brain and muscles automatically and continuously work to keep the body stable. Hours on the road in a constantly rocking coach, especially along mountain, secondary or coastal routes, can leave occupants tired and irritable.
SHOCKS:
Suspension components work together as a system. F-53 motorhomes are big, heavy vehicles. When you install more aggressive anti-sway bars, which act like springs, they want to snap back to their neutral position after a body-lean event. When you dramatically reduce that side-to-side rocking motion, you'll notice some porpoising. That's why we recommend upgrading to the Koni FSD shocks from the OEM Bilstein shocks.
The Koni FSD shocks are a premium hydraulic shock that utilizes "patented Frequency Selective Damping (FSD) technology to control large body motions and cornering forces, but smooths expansion joints and rough roads for improved comfort" and when adding the SuperSteer Quad Shock Kit you can really feel the difference.
Keep in mind that suspensions are a system and every part has a role to play in the overall handling of your motorhome. One component in that system can compliment another, or one can aggravate another, which is what happens in the steering of this coach. That being said you might want to read the blog post we did a while back it's called THE STOCK F53 DRIVE TEST
Here are also a couple of videos you may find interesting regarding the new 2021 Ford F53. Have a blessed day and safer and happier driving!
Robert Henderson drives and gives his feedback on the new 2021 Ford F53.
---
How does the new 2021 Ford Chassis handle on the road?