Does your motorhome feel a little un-bear-able to drive?
Imagine a curious black bear in the middle of a remote campground, stumbling across a motorhome. It climbs in, takes the wheel, and pictures itself cruising along the open road with the wind blowing through its fur. Sounds crazy, huh? Our company is located in the Pacific Northwest and while an image like this may tickle your funny bone, stranger things have happened in this part of the country.
So, what does a bear and a motorhome have to do with this blog? Well, driving a motorhome can sometimes feel like an unBEARable White-knuckle experience. (pun intended) It is important to remember that motorhome driving requires human skill, not "bear strength". So in this blog I'd like us to tackle the challenges of C Class RVs, A Class motorhomes, with wit, wisdom and a dash of humor to make your experience in a recreational vehicle both safe and enjoyable. Ok, lets jump right into it.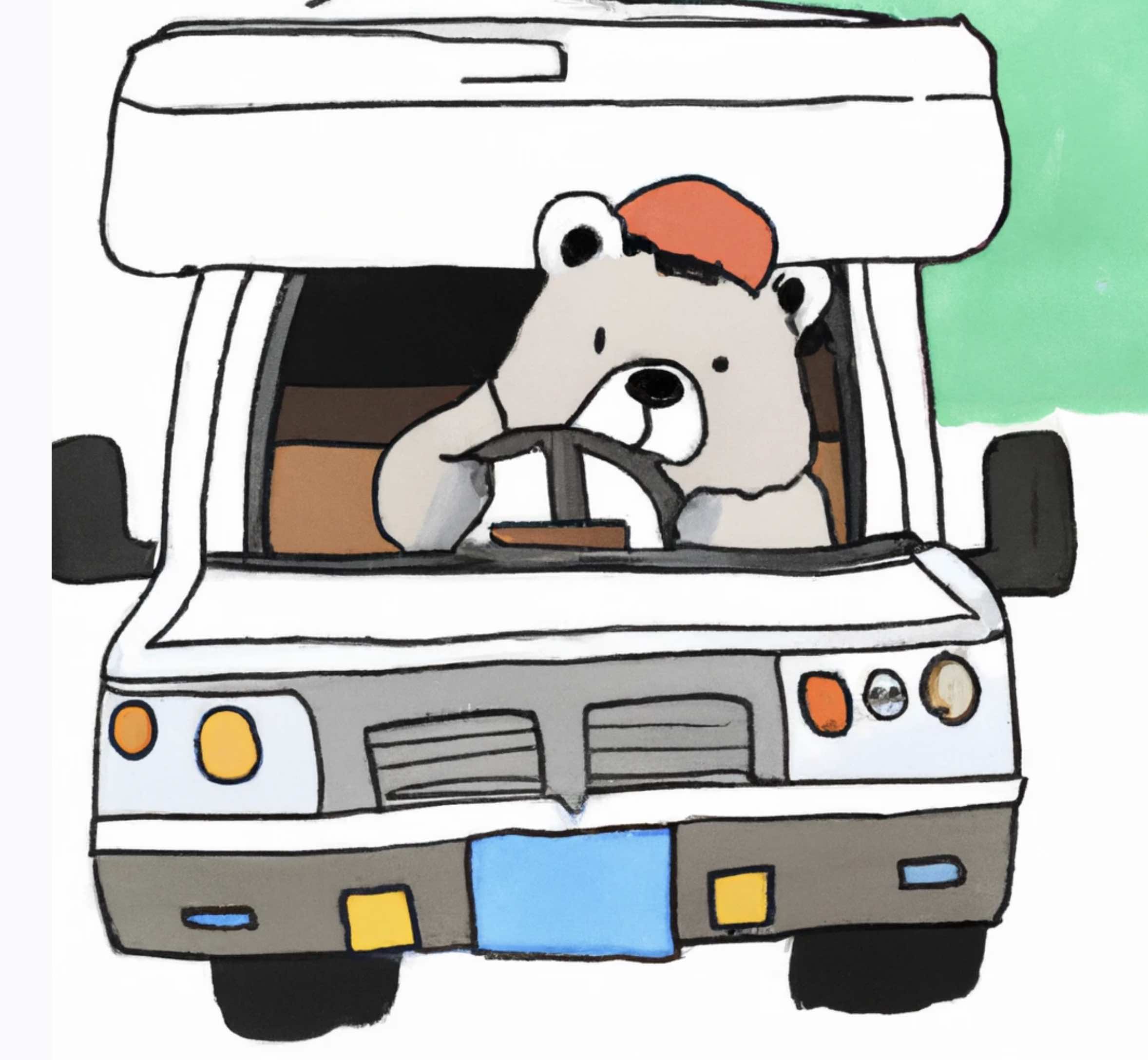 "Is that Motorhome a BEAR to drive?"
HoW TO navigate A-Class Motorhomes, C-Class RVs and other RVs with ease.

It is important to learn how to navigate tight corners and narrow roads. Both A Class motorhomes as well as C Class RVs can be a bear to drive. Here are 4 tips to consider.
Get Familiar with Your RV: Before hitting the road, take the time to familiarize yourself with your specific RV model. Learn about its dimensions, turning radius, and unique features, such as the location of the mirrors, backup camera (if equipped), and parking brake.
Take a Driving Course: Many RV dealers and driving schools offer courses designed specifically for driving motorhomes and other large vehicles. These classes can provide valuable hands-on experience and expert guidance on safe driving techniques.
Practice in a Controlled Environment: Find a large, empty parking lot where you can practice driving your RV without any obstacles or distractions. Practice turning, backing up, and parking, getting a feel for the vehicle's size and maneuverability.
Start with Short Trips: Begin your RV driving journey with short, local trips to build your confidence and experience. As you become more comfortable, gradually progress to longer trips and more challenging routes.
Slow and Steady - The Secret Sauce to Driving C Class RVs and A Class Motorhomes

It can feel like driving a C Class or A Class RV is similar to piloting a yacht. Channel your inner tortoise and not your inner bear (or hare). Larger RVs, such as the ones on the Ford F53 chassis need more time to brake and accelerate. You'll have a smooth ride if you exercise caution when driving in difficult conditions such as rain, snow or steep slopes.
The Motorhome Adventure: Creating Memories and Instagram-Worthy moments

It's not just about getting from A to B. You can also enjoy the journey by exploring new places and having a good laugh at the odd wrong turn. Turn up the music, visit that roadside attraction and don't forget that bears are great at catching a fish but they can't compete with your road-tripping abilities!
THE HUNT: Find THE right RV dealer and repair shop TO WORK WITH
When hunting for the perfect RV dealer and repair shop to care for your beloved home-on-wheels, it's crucial to choose wisely. Keep the adventurous and lighthearted spirit of your motorhome journey in mind as you consider these four top tips for finding the ultimate RV partner-in-crime:
Reputation and Reviews: Seek out the crème de la crème of RV dealers and repair shops by exploring their online reputation. Read reviews, testimonials, and ask fellow road warriors for their recommendations. Keep an eye out for stellar customer service, top-notch repairs, and honest communication. A dealer or shop that gracefully handles negative reviews and resolves issues is a winner.
Experience and Expertise: You wouldn't trust just anyone with the keys to your castle, so why settle for less when it comes to your RV? Choose an RV dealer and repair shop with technicians who know their stuff, boasting experience with a wide range of recreational vehicles, from A-Class motorhomes to C-Class RVs. Ensure the staff is certified, well-trained, and keeps up with the latest industry trends and technologies.
One-Stop-Shop Services: Wouldn't it be marvelous to have all your RV needs met under one roof? Look for a dealer and repair shop that offers comprehensive services, from routine check-ups to complex repairs. Inquire about warranties or guarantees on their work and parts, because a little extra peace of mind goes a long way.
Convenience and Location: When you're in the midst of an epic road trip, the last thing you want is to travel miles out of your way for RV services. Consider the location of the dealer and repair shop in relation to your home base or travel route. Opt for a shop that offers flexible scheduling, prompt service, and a cozy waiting area where you can sip coffee while dreaming up your next adventure.
EQUIP your Motorhome CHASSIS:

USE Aftermarket parts for a Posh Driving Experience

Consider upgrading your C or A Class motorhome's driving experience with aftermarket steering and suspension components. Imagine these upgrades adding a touch luxury to your motorhome, like switching from bare (bear) feet to designer shoes. Your driving experience will be more enjoyable with improved handling, comfort, and stability.
While it may seem difficult to master the art of driving an A Class or C Class motorhome, you can do so with the right equipment and patience. At SuperSteer when you choose to equip your motorhome with any of our steering and suspension aftermarket parts we give you the option to find someone who can help you get it installed correctly. (We provide a Google Map) Doing this can help make your trip safer and a happier experience.
Ready to take your RV driving experience to the next level? Don't hesitate to reach out to our SuperSteer team for expert advice, top-quality aftermarket steering and suspension parts, and all the support you need to make your motorhome journey safer and more enjoyable. We're just as passionate about RVing as you are, so give us a call, send an email, or connect with us on social media – we're here to help you tackle the open road with confidence and style. Let's work together to make your RV adventures even more unforgettable! Thanks for reading this blog and enjoy your travels. God bless!