Tech Time - "Vital tips for every RV driver."
In 28 years as an expert RV technician, Eric has seen many interesting things on RV's but he had never witnessed anything like this before.
What we saw totally shocked us!
In this Tech Time Video, we discuss why it is vital for every RV driver to think through any steering and suspension changes you make on your motorhome.
We also mention a thing we call the RPA.
The RPA was developed by Henderson's Line-Up, the RPA is a systematic, diagnostic 15-mile road test that reveals steering and suspension problems over a variety of road surfaces. You'll ride alongside our technician as your coach drives over highways, curved and narrow roads, sharp turns, even bumps, and ruts–they're all included in the RPA to re-produce the very symptoms that you've come to us to solve. At the test's conclusion, we'll perform a detailed inspection of how your coach handles and make some recommendations.
Keep in mind your motorhome steering, suspension, and braking systems are comprised of many different components, each of which must work correctly to ensure the proper functionality of the system as a whole. That's why we recommend our Road Performance Assessment (RPA®)
You can learn more about the RPA by going to:
#RVsafety #ClassAMotorhome #Safe-T-Plus #konishocks #suspension #steering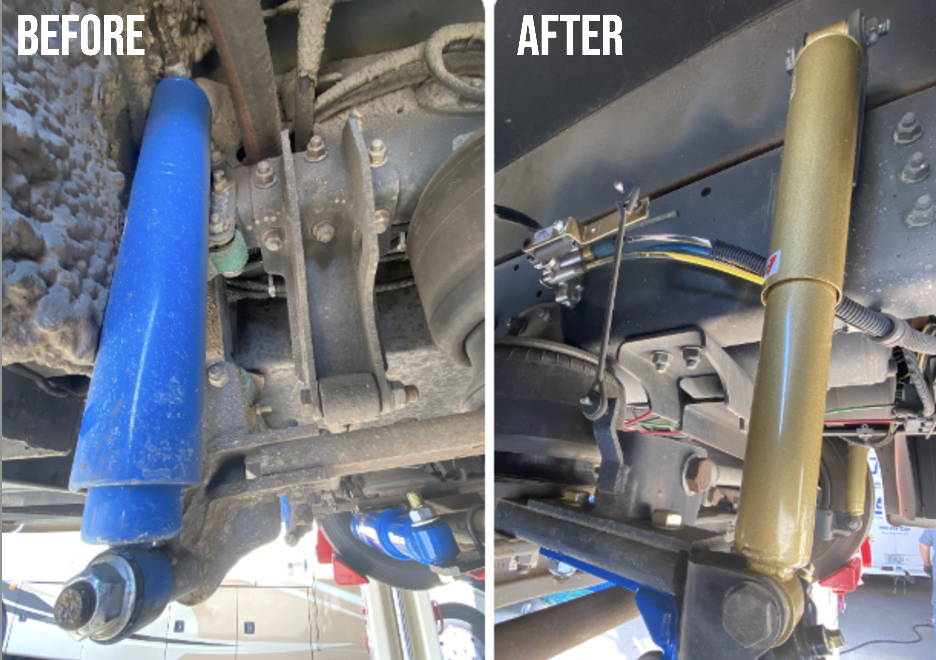 BEFORE - Coach with a Safe-T-Plus as a Shock.
AFTER - Properly replacing with a Koni FSD shock.