People from all over the country bring their motorhome to us because having a safer and happier driving experience is important to them. Many coach owners travel off the beaten path in order to get to less crowded locations. So for them, having it handle well is a real priority.
A smooth sailing or a rough riding driving experience depends a lot on the type of suspension. Unfortunately, for most first time RV owners, the suspension is an afterthought. The style and floor plan of the coach is the only thing on their mind. Can you imagine the shock they must feel when finding out that their beautiful coach doesn't handle the way they thought it would. Maybe you had this experience yourself. It can be frustrating to say the least.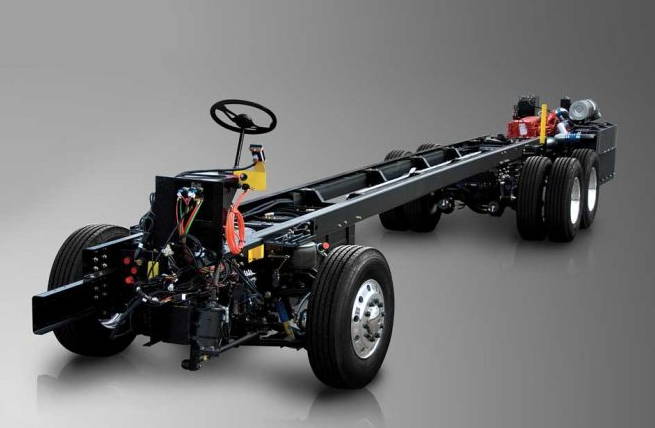 At SuperSteer we are passionate about helping every driver know about the different types of suspensions and what can be done to have safer and happier driving no matter what type of suspension. Let's take a closer look.
First off, you need to understand that a suspension is a complex system. It consists of many components such as tires, air pressure, springs, shock absorbers, and airbags. All these components help connect a vehicle securely to its wheels. This connection allows cooperation and movement between each other. As we examine some different types of suspension systems you will see the pros and cons. All of them have different challenges which are why there is such a robust aftermarket to improve them. In fact, that is the main reason we created the SuperSteer brand. After-market products can include parts like Tracbars, Radius Rods, Motion Control Units (MCU'S) and Anti-Sway bars, and others.
There are different types of RV suspensions. Understanding the kind you currently have is important. Let's review some of the most popular ones on the market today..
A Suspension Systems Overview:
COIL SPRINGS:
This is one of the most basic types of suspension systems. You find many types of vehicles, including RVs. This suspension system uses heavy-duty metal coiled springs. This design helps cushion the impact when on the road.
Pros: Cheap, widely available, and versatile.
Cons: Not the smoothest of the suspension types. You will feel a lot of movement on the road if you are using a spring suspension system. It's also not a good idea to take this type of suspension "off-roading" because it is not made for it.
LEAF SPRINGS:
This is another popular type of suspension. Leaf springs are single or a series of slim arc-shaped pieces of metal that bend along with the road to make for a smoother ride. There are several subtypes of leaf springs such as elliptic, semi-elliptic, transverse, and others.
Pros: Cheap, widely available, versatile, and reliable. Can be maintained more easily than other types of suspension systems.
Cons: Like coil springs, leaf springs are not the smoothest types of suspension. There are several forms of leaf springs, and each will have its characteristics such as leaf springs meant for highway use or leaf springs meant to handle off-road travels. If you are hitting a rough road with basic leaf springs, you may be in for a bumpy ride.
AIRBAGS OR SPRINGS:
This type uses a system of air and bags or springs to help cushion any impact while on the road. Systems often use four or eight bags in combination with other suspension types to provide the best ride possible. Please note that you usually only see air springs or bags in larger vehicles like buses or RVs.
Pros: Dynamic. The bags will deflate and inflate depending on the type of pressure the suspension system is handling. Air suspensions are available aftermarket as well so you can make a quick upgrade to your current suspension system. Often the smoothest of all suspension types.
Cons: This is an expensive type of RV suspension. May break down from time to time and need to be replaced. These types of suspension systems need yearly maintenance before and after you hit the road each season.
LIQUID SPRINGS:
This is a smart suspension modification that uses a shock-absorbing liquid, enhanced with smart controls to bring the right sized spring for every moment. It's better than a one-size-fits-all metal spring solution. This system is used primarily on ambulances, shuttle buses, school buses, and yes, even on RV's. The owner Robert Henderson has Liquid Springs on his F-53 and loves it.
Pros: Liquid-based struts and an onboard processor provide better handling and control when you need it, and a smoother, softer ride when you want it. The reduced vehicle vibration increases comfort and can also lower maintenance costs. User-friendly driver interface with graphic display for driving and diagnostic modes to integrate system control.
Cons: The only hesitation is that this is an expensive modification to your coach. The installation can take up to several days and the cost can be as much as $15,000. However, if comfort and control over your suspension are paramount this is a good investment.
Well, there you have it. Those are the basics for understanding RV suspension types. Let me close by saying that no matter what kind of suspension you have, we can help you make it better.
Our family business began in Grants Pass in 1961. Over the years, certain steering and handling issues became common, so we developed a line of superior after-market parts that not only corrected those issues but dramatically improved overall performance and safety. As a solution provider, the last thing we want you to do is to waste time and money on parts that may not give you the solution you need. We believe it's vital that you understand certain parts have a specific role to play. Our hope is that you got value from it.
If you have any questions, comments, or concerns please feel free to reach out to us. We are one of the few companies that still answer the phone.
.