Our Sprinter Renegade Story:
Hello my name is Steve, My wife and I purchased our new 2022 Renegade F on a 3500 Sprinter chassis in May of 2021. I've had many trailers, toy haulers, car trailers and 3 Class A motor homes. We decided to downsize for several reasons. We travel anywhere from 6 to 8 thousand miles a year, mostly in the Northwest and as far as Eastern Montana. We always can expect to encounter heavy winds at points along the way.

Our second and third Class A coaches had almost every suspension upgrade that Henderson's Line-Up offers.I had great success with every change we made. Knowing what I had learned from those changes, it made perfect sense to make similar changes to our new coach.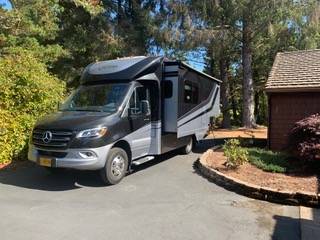 We started with a trip to Boise from the north coast where we live. The coach drove quite well but had some of the normal challenges.
Wind was an issue, the normal getting pushed around by the passing semi-trucks. It also had the bouncing from side to side at slow speeds that plagues most coaches.

The first changes after we got back from Boise were front and rear Sumo Springs. The second change was upgrading the rear shocks to the Koni 8805-1084.
Making those changes helped considerably in the ride and some with the slow-speed rocking.

Before our first trip to Montana, we made our second trip to Henderson's in Grants Pass, OR to have the auxiliary rear sway bar added. We also had the Steer Safe steering stabilizer assembly installed. The last change we made on this trip was to add the 3" rear wheel spacers. The trip back home was much improved. Trucks and the wind were not able to push us around as much. We also noticed a very large improvement in the stability of the coach in steering and cornering.

After making our trip to Montana we felt that there were still a few things that needed to be addressed. This year in March we stopped in at Henderson's on our way to Palm Springs. We started with the SS701 Rear Trac Bar and front Koni struts which also meant that they would align the front end. They also installed a new heat-treated rear sway bar to replace the OEM unit.

The 1084 Koni rear shocks were a good shock but after upgrading to a different stronger Koni shock almost all of the slow rocking disappeared. Henderson's are working on several other shock choices that will tune the ride to give folks several choices in firmness of ride.

We hit the road to California. As soon as we pulled on the freeway it was very clear that these were the final changes that the coach needed. The biggest change we noticed was that the trucks and the wind didn't affect the coach as prior. We did have heavy winds, 30- 45 mph gusts in several places along the trip.

Please don't misinterpret the fact that these coaches are great to drive but the difference is like comparing an entry level car and a finely tuned sport version of the same car. These changes make the Sprinter chassis tuned to perfection.
"The folks at Henderson's are some of the best people to work with. They are the most knowledgeable and will take the handling of your coach to another level that can't be explained. I would highly recommend you try these changes for yourself. You won't be disappointed."
In our opinion each change that we made just kept making the handling better and better. After having all the changes done to our class A coaches, I knew this would be a home run but had no idea how much better it would be.

I can't say enough about Henderson's Line Up's professional approach and help. They will let you stay at their shop in the evening if your upgrades or repairs take more than one day or if you get in late.

Hopefully this information will help anyone trying to decide whether or not to upgrade their coach. We would make all these changes again if we purchased a different coach and would only go to Henderson's Line-Up and Super Steer.


Thank you for your time,
Wind to your back, smooth roads and beautiful sunsets.
Steve